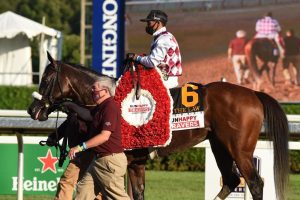 Breeders' Cup World Championship races are being run at Keeneland Race Track in Lexington, Kentucky on Friday, November 6th and Saturday, November 7th. Fourteen lucrative World Championship races spanning multiple distances, age groups, racing surfaces, and varied categories will take place over the weekend. $31 Million Dollars of combined purses will be distributed amongst the 201 equine finalists, including those from 39 foreign countries.
The Premier Event, resembling the combined Heavyweight Title of each race category, will be the $6 Million Dollar 1-1/4 mile Classic with all entrants that are 3-years-old or above. Each entrant has already achieved a significant measure of success in both previously earned purse money and of recognized races they have won enroot to this ultimate contest.
Barclay Tagg's combined Belmont Stakes and Travers winner 'Tiz the Law' will compete against, Bob Baffert's three highly regarded Grade 1 Stakes entrants 'Improbable' [favored], 'Maximum Security', and Kentucky Derby winner 'Authentic'. An equally well-qualified $1.7 Million Dollar Stakes winner 'Tom's d'Etat' and others of successful racing qualifications will compete. The winner could attain "2020 Horse of the Year" honors.
3-Year-old filly 'Swiss Skydiver', Preakness Stakes winner, will compete against 'Monomoy Girl', favored 5-year-old $3.4 Million Dollar former 2018 winner of the filly/mare $2 Million Dollar 1-1/8 mile Distaff, for this year's Distaff. There are 4 other equally impressive mares competing for the win. Either of these 2 female horses could also qualify for "2020 Horse of the Year" honors.
Reference:   https://www.breederscup.com/