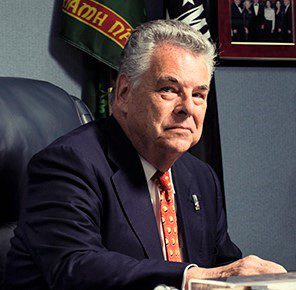 Peter King was Long Island, NY's political Elder Statesman Congressman through his 14th Term ending December 2020. 'Pete' as he is known to his friends, is tough in appearance but he is as sensitive to social issues as a Conservative Republican can be. He has been a Moderate and Independent voice on issues that affected the citizens he represented.
Pete secured 9-11 victims' rights and financial support, obtained funding for Super-Storm Sandy victims, protected us from MS-13, fought against anti-Semitism, preserved tax benefits to high-paying New Yorkers, promoted better gun control standards for all citizens' safety. He was a former Chair of the US Homeland Security Committee.
King formerly voted against both original articles of impeachment against President Donald Trump filed on December 18th, 2019. How would he have voted recently? Especially in today's hyper-partisan political environment, Pete will be missed as an independent, common sense, guiding light.
In our 3 Part Series, we talk openly about local and national politics, and Pete's passion for sports and fitness, particularly baseball, boxing, and equestrian activities.  DrB www.ONEonONEStories.com   February 6, 2021
Contacts & References:       https://en.wikepedia.org>wiki>Peter_T._King