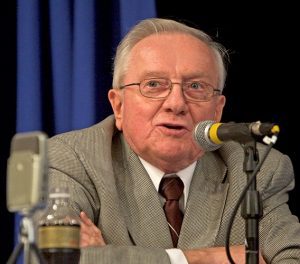 In Remembrance & Tribute:
On March 6, 2020, Ed Ingles, the legendary master of radio broadcasting passed away at 87 years of age. For decades, Ingles was the radio voice of New York sports. In a career spanning 60 years, he had been the director of WCBS and a commentator for Jets games and St. John's basketball. He covered golf, tennis, horse racing, auto racing and several Olympics. He mentored countless up-and-coming broadcasters, both professionally and at Hofstra University's WRHU. "Ed didn't just give the information, he told amazing stories, made relationships with the people he was talking to and it came through on every report," said WCBS 880's Wayne Cabot.
Not only did Ed introduce my first radio show, in February 2018 we sat down to record Ed's chosen interview subject, "Aging; What You Should Know". His candor is insightful, genuine and inspiring. Ed was truly a broadcaster's broadcaster and an aspiring student's best mentor. He will be forever missed and remembered!
Additional Memorial Reflections:  https://wcbs880.radio.com/articles/news/legendary-wcbs-sportscaster-ed-ingles-dies